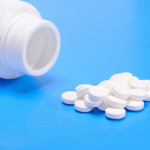 Calcium is a vital mineral for our body to function optimally, but there is a downside to getting too much of this mineral.  In the past, the biggest concern was people not getting enough calcium in their diet and having a deficiency.  Now the tide has turned and there are now problems with people getting too much calcium and this could lead to health issues, including heart problems. 
Recent studies have shown that excessive calcium in the blood can do damage to your heart.  So how are some people getting too much calcium?  With the increased awareness of the risks of calcium deficiency, many people started taking calcium supplements and eating more calcium-rich foods and ended up getting too much calcium.
It has been shown in research that too much calcium increases the risk of the excess calcium being deposited in the arteries like plaque.  This calcium buildup  in your arteries hardens and reduces the flow of blood, increasing the risk of heart disease and heart attacks.  This danger was not known until recently and shows the importance of watching your calcium level.
Sources of calcium are dairy products and green vegetables, including collard greens, kale, and spinach.  There are also lots of foods that are fortified with calcium.  The daily requirement for calcium is between 1,000 mg and 2,000 mg, depending on your age.  All these different sources of calcium make it a lot easier to get too much of the mineral.
Many people are taking calcium supplements that contain only calcium and not magnesium, which works hand in hand with calcium.  You should not be taking calcium without magnesium.  In the past, the accepted ratio of calcium and magnesium was two to one, with calcium having twice the amount as magnesium.  That ratio has been modified because of the importance of magnesium and its low absorption rate from foods.  The accepted ratio now is one to one.
You still need to make sure you don't go too low in your calcium levels because not enough calcium can be dangerous.  Low levels of calcium, called hypocalcemia, can cause symptoms like muscle twitches, muscle stiffness, depression, tingling or numbness in extremities, and lack of energy.  If hypocalcemia lasts for an extended period of time, there could be heart arrhythmia and loss of bone density.
Be sensible with your calcium intake, getting most of your calcium from food sources, but if you take a supplement make sure you have an equal amount of magnesium and at least 400 mg of vitamin D, since vitamin D is essential in the absorption of calcium.
What you should do is take a inventory of all the foods you eat that contain calcium, along with any calcium supplements.  If your total of calcium is too high, its time to ditch the supplements and get your calcium level down to normal ranges. Calcium is a vital mineral but you don't want levels too high or too low.